Negla, Swiba and Tatu have all gained asylum in Bristol and now volunteer their time to cook for around 70 refugee women on a weekly basis although on special occasions it can be up to 150.
In Tatu's words: "We work and volunteer at the lunch club on Tuesday for Refugee Women of Bristol based at Malcolm X Centre in St Pauls, an organisation that targets the needs of refugee and asylum seeking women. We get to work with different women around the world. We enjoy sharing laughter and recipes. The most important thing is the appreciation that we get from women for a well cooked meal."
Refugee women of Bristol was established in 2003 and each year supports approximately 300 refugee and asylum-seeking women and their pre-school children. At the drop in centre they regularly see women from all over the world, including Somalia, Sudan, Iraq, Iran, Syria, Gambia, China and many others countries.
Ali is a Sudanese documentary filmmaker who regularly produced films with the many minority ethnic tribes that are spread across Sudan. On one of his assignments, he came across an unexpectedly empty village and after some investigating, revealed the site of an atrocity. The government was alerted to his attempts to publish the footage and a warrant for his arrest was filed.
With no other option, Ali payed a large sum of money to be put onto a boat leaving for Europe. Whilst buying supplies for the journey, he saw his face in the local paper along with the warrant for arrest and a potential 20-year sentence. This later became a crucial piece of evidence for eventually gaining asylum in the U.K.
Ali now lives in Bristol with his wife and two children. He plays the oud and sings in the contemporary oud duo Nabra, along with German musician Knud Stüwe.
"It was mid-afternoon on Christmas Eve when the train arrived in Paragon Station. 48 hours earlier I had been squinting in the scorching brightness of Buenos Aires' mid-afternoon summer sun. Now it was really dark, like night, and misty and cold. Carmen said, "This cannot be it, we are just connecting." But it was here.
In the wider world, a lot was going on. Things were changing dramatically and this was why we were here. The 11th of September 1973, the first 9/11, was the day things changed forever for many like Carmen and me. This was when the neoliberal agenda went operational. Milton Friedman's free-market model was adopted by the Pinochet dictatorship and Chile became its test ground.
This led to a chain of events that included imprisonment, uprooting, exile and re-settlement in foreign lands. And this is when the British tradition of sheltering the persecuted kicked in. A number of people living and working in Hull organised for exiled Chileans to settle in town, mainly to continue interrupted studies at the University. It was an incredibly fortunate conclusion to a very dark odyssey."
Luis Bustamante

Rashid is one of four brothers who run the Bristol Sweet Mart on St. Marks Road, established by their late father Kassam Majothi in 1978. He is responsible for setting up the delicatessen and managing the wholesale section of the business.
Kassam Majothi ran a successful exports business in Iganga, Uganda that employed over 200 people. However, during the reign of Idi Amin the family was forced to immigrate to the U.K in 1972.
With his previous experience in merchandising and with limited funds, Kassam Majothi started the Bristol Sweet Mart as a humble one-shop family business selling Indian sweets and home-made foods in Easton. Since then the business has grown both in strength and size, expanding down St. Marks Road in Easton.
Today, Rashid and his brothers continue to expand the business which is at the heart of the community in Easton. They proudly host a yearly Grand Iftar which is attended by thousands of people from all faiths and backgrounds.
Sahra comes from an affluent family in Somalia with her father once serving as Governor. When civil war broke out in 1988, Sahra's Mother was forced to walk for 3 days and 4 nights with her young children to neighbouring Ethiopia. Attempts were made at reuniting the family but for the time being the risks remained too high. Eventually they came together in Mogadishu although the country remained unstable.
At only 15 years old, Sahra married a Dutch national in order to flee Somalia and avoid almost certain conscription into the army. She settled in Holland in 1990 and completed degrees in languages and culinary arts and eventually found work as a translator.
Sahra divorced and after a brief spell connecting with family in Hull, moved to Bristol where she remarried and now has 4 boys and 1 girl. She currently works with children of special educational and physical needs for Bristol City Council and volunteers at Bristol Women's Voice.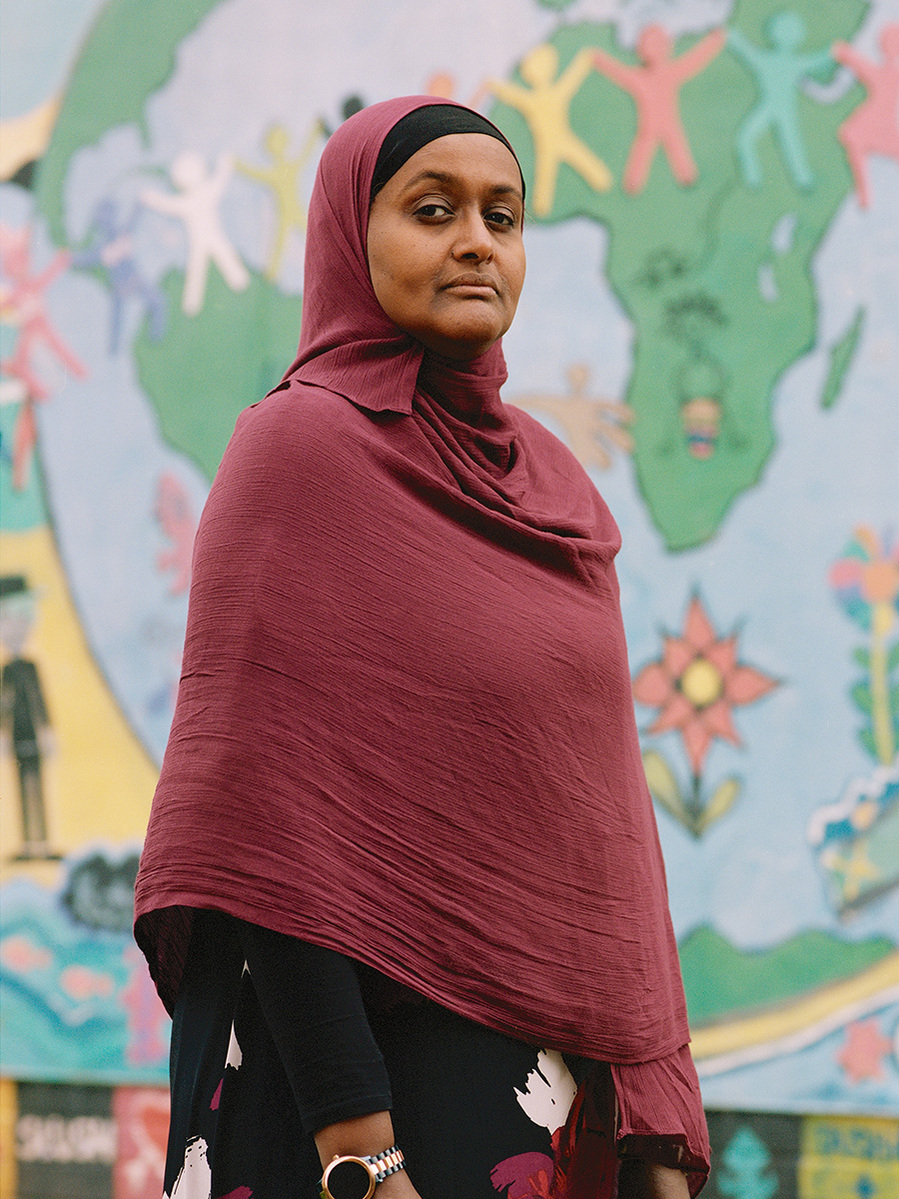 A Route to a Better Future
(1992-2000)
"The War in Somalia,
Meant no return for Somalis from Kuwait,
My mother and we four sisters boarded
A flight to Turkey,
Then a bus to Syria.
Across mountains, through valleys and villages.
A flight to Moscow, a cold Russian city.
We arrived frozen, with no coats, wearing sandals.
Six months, waiting for passports.
No more Soad,
My name was now Maria from Guatemala.
At the age of seventeen with my cousin,
First time away from my mother and sisters,
We crossed the border to poland
And on to Germany where we rested
With a Somali family from our clan"
Page 38/39 from the book Under the Shade of a Tree.
Soad Ali
"I was just over thirteen years old when we left Egypt on the 6 December 1956. Like many other Jewish families, we had been thrown out of our native country after the Suez crisis. Between 1948 and 1956, my parents had thought many times about the possibility of leaving Egypt. However, when it came to the crunch, we were only given seven days to leave – only seven days to make a decision that would drastically affect the rest of our lives. My mother had a British passport, so England seemed the most logical destination. I am not sure how my mother's family obtained a British passport, all I know is that my maternal grandfather, who died when my mother was only two, had obtained it when he lived in India. We were certainly grateful for that all important passport at the time, as it meant we could at least head for a European country – a world away from the life we had known in Egypt, but at least England sounded less daunting than say Brazil, Australia or New Zealand. My father, on the other hand, was stateless. I came across his laissez passer when I was clearing his things after he had passed away. I remember seeing the word Apatride (stateless) stamped in huge letters across the page. In spite of all the years that have since passed, I felt a pang when I saw those words. It reminded me again that the country my father had thought of as his own had not only rejected him but branded him as a lesser being, a man who did not belong to any country.
Vivianne

During Chile's 1973 Military Coup, Alfonso who was a student at the time, was imprisoned for being a supporter of the then deposed socialist party. During this time, Patricia was visiting her brother in the same prison and eventually met Alfonso. The pair married and after a 4 years served were allowed to leave together in return for permanent exile.
Handcuffed and placed in a packed military vehicle, Alfonso was taken to the airport where he re-joined his wife Patricia. They had their passports marked with a deportation stamp, boarded the plane and headed for the U.K.
Alfonso and Patricia found temporary accommodation in a London hotel and were given support by the Chilean Solidarity Movement which included English lessons. They eventually moved to Bristol, Patricia studied to be a social worker, Alfonso took up Mechanical Engineering.
Patricia opened La Ruca on Gloucester Rd. in the late nineties, a fair trade delitescent and cafe whose name roughly translates to the mud brick homes of the indigenous people of Chile. Having retired from engineering 5 years ago, Alfonso now joins Patricia at La Ruca and the pair regularly host talks, a Spanish and English exchange and work closely with Amnesty International.